Road/Railer
First Generation Locomotives

Replica Locomotives

Metre Gauge Plus Steam

New-build Locomotives

Broad Gauge Diesels

Metre Gauge Plus Diesels

Imported Steam

Imported Diesel

Imported Diesel Railcar

Imported Electric

Steam Railcar

Electric Railcar

Flywheel/Battery Electric Railcar

Rail Cranes

Small On-Track Plant

Personnel / Equipment Trolleys

Road/Railer

Brake Tender

Monorail

Tracked Hovercraft

Magnetic Levitation

Airport Guided People Movers
First Generation Locomotives
First Generation Locomotives
Replica Locomotives
Replica Steam Locomotives
Replica Broad Gauge Steam Locomotives
Replica Diesel Locomotives
Replica Petrol Locomotives
Replica Battery Locomotives
Display Only Replicas
Metre Gauge Plus Steam
Metre Gauge and Larger Steam
New-build Locomotives
Broad Gauge Diesels
English Electric
Ruston Hornsby
Metre Gauge Plus Diesels
Metre Gauge and Larger Diesels
Imported Steam
Imported Steam
Imported Steam Broad Gauge
Imported Steam Metre Gauge and Larger
Imported Diesel
Imported Diesel Railcar
Imported Diesel Electric Railcar
Imported Electric
Steam Railcar
Sentinel Railcar
Steam Railmotor
Electric Railcar
Liverpool Overhead Railway Motorcoach
NER Driving Motor Parcels Van
Flywheel/Battery Electric Railcar
Parry People Mover
TDI VLR Vehicles
Rail Cranes
Coles
Cowans Sheldon
Cravens
Grafton and Co
Joseph Booth
Kirow
Marshall Fleming
Plasser and Theurer
Ransome and Rapier Ltd
Stothert and Pitt
Taylor and Hubbard
Thomas Smith and Sons
Other Rail Cranes
Small On-Track Plant
Personnel / Equipment Trolleys
Baguley/Drewery
Bance
Donfabs and Consillia
Fairmont Railway Motors
Geismar
Lesmac
Matisa
Permaquip
Wickham
Miscellaneous Trolleys
Road/Railer
Beaz-Solutions
Converted Road Vehicles
Miscellaneous Road/Railers
Noord Nederlandsche Machinefabriek
Platform Basket
Unilok
Zephir
Brake Tender
Monorail
Metalair Ltd
Road Machines Ltd
Steam Monorail
Tourist Monorails
Various Other Monorails
Tracked Hovercraft
Magnetic Levitation
Airport Guided People Movers
Adtranz C-100
Doppelmayr Cable Liner
Innovia APM 100
Innovia APM 200
Ultra PRT
UKMISC: Road/Railer Converted Road Vehicles
Converted Road Vehicles
Miscellaneous Road Rail vehicles that have been created by adding rail wheels to a pre-existing road vehicle, for various reasons.
| | |
| --- | --- |
| Length | Varies |
| Width | Varies |
| Height | Varies |
---
Bruff
BRUFF Bedford Road/Railers
A road–rail vehicle is a dual-mode vehicle which can operate both on rail tracks and a conventional road. They are also called hi-rail, from highway and railway, or variations such as high-rail, HiRail, Hy-rail, etc. They are often converted road vehicles, keeping their normal wheels with rubber tires, but fitted with additional flanged steel wheels for running on rails. Propulsion is typically through the conventional tires, the flanged wheels being free-rolling; the rail wheels are raised and lowered as needed. 
For years the trade name "BRUFF" has been well known for the little Bedford road-rail vehicles that bounce over the track, lower turntable, align with rails then move off towards the incident and today although NONE of this fleet of 30 vehicles is currently registered to operate on the national system 4 exist in use on depots/yards and others have been preserved.

BRUFF also converted some other vehicles for road-rail use.
| | |
| --- | --- |
| Length | Varies |
| Width | Varies |
| Height | Varies |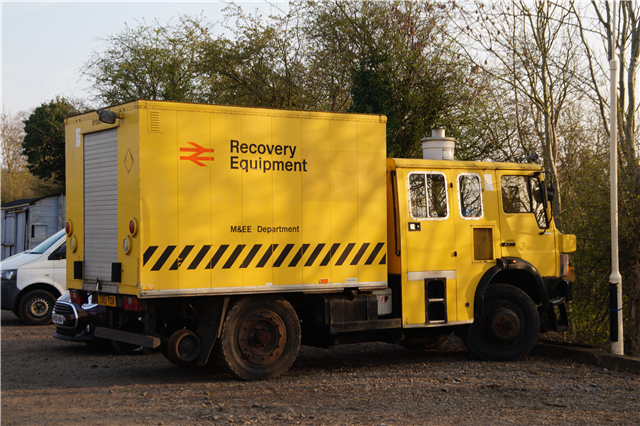 ---
Landrover
Landrover vehicles
Landrover road rail vehicles.
| | |
| --- | --- |
| Length | Varies |
| Width | Varies |
| Height | Varies |
| Builder | Landrover |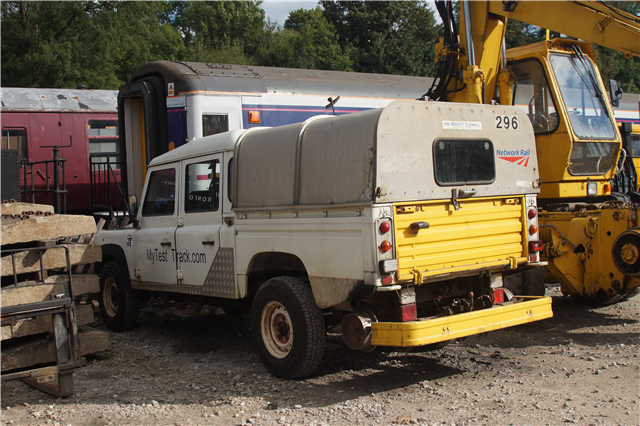 Photo: Dan Cardwell
---
Multicar
Multicar Vehicles
Multicar is a small, specialized multifunctional equipment transporter manufactured at the Hako GmbH factory in Waltershausen, Germany. Multicar is the only brand that has survived from the East German IFA vehicle industry which still produces its own vehicles.
In 1920 the present company was founded as the ADE works (named after Arthur Ade). It produced agricultural equipment, trailers and clutches. After the Second World War, production was resumed in 1946 under the name "Gerätebau Waltershausen".
In 1948 the company was renamed VEB Fahrzeugwerk Waltershausen, a name it retained until its privatization in 1991. In 1956 production began on the DK 3 diesel cart (also known as the Diesel Ant, ants being hard-working). This had been developed in the Ludwigsfelde works and was actually an Electrocar with a diesel engine. Two years later, the first Multicar, the M21, was produced. By 1964, 14,000 units had left the factory in Waltershausen. For the following ten years the M22 mini truck left the production line, with 42,500 vehicles built. Until 1978, its successor, the M24, was produced with 25,600 vehicles leaving the factory, 48% of which were exported. The M25 was a major export; 70% went to the Comecon states and the West. The M25 had an IFA-built diesel engine with 33 kW (45 PS)
In 1991, the state-owned factory was privatized, becoming Hako-Werke GmbH (Hako Works, Hako being short for Hans Koch & Son). The crucial driving force behind the turnaround - and after reunification - was the former director of materials management at Multicar, Manfred Windus, who was honored in 1993 as manager of the year. From 1993 to 2009, the M26 was produced.
| | |
| --- | --- |
| Length | Varies |
| Width | Varies |
| Height | Varies |
| Builder | Multicar |
---
Unimog
Unimog Road Railers
Unimog is a range of multi-purpose all-wheel drive medium trucks produced by Daimler AG (formerly Daimler-Benz) and sold under the Mercedes-Benz brand.
The Unimog road-railer version is used for shunting, maintenance and cleaning tasks. Railway companies, operators of metros and city railways (as well as service providers in track construction and maintenance) can deploy the implement carrier easily as its road and wheels allow it to go almost anywhere on their networks.
| | |
| --- | --- |
| Length | Varies |
| Width | Varies |
| Height | Varies |
| Builder | Daimler AG |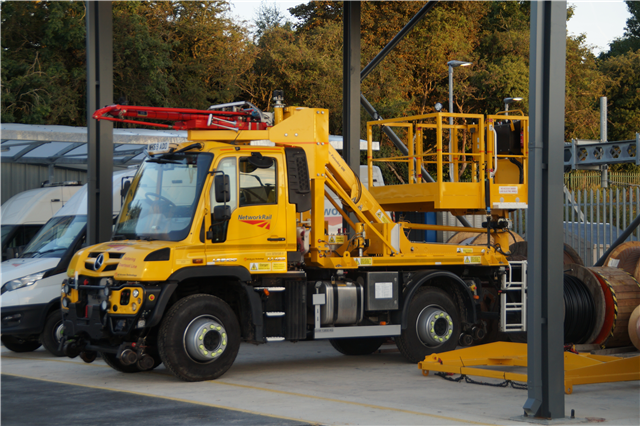 Photo: Dan Cardwell
| | | | | | | | | | | | | |
| --- | --- | --- | --- | --- | --- | --- | --- | --- | --- | --- | --- | --- |
| Number | Altnumber | Name | Status | EVN | Note | Livery | Depot | Location | Base | Owner | In Service | |
| 004971 | KAR 536V 50 KM 19 | DRC 730J | S | | 4wDM - Mercedes | Yellow | | MOD | | MOD | 1970 | |
| 008983 | | Q317 GRN | A | | 4wDM - Mercedes | Yellow | PR | | Llangollen Railway | PRE | 1992 | |
| 027869 | | Q454 JTT | | | 4wDM - Mercedes | White | PR | | Whitwell & Reepham Railway Station | PRE | 1999 | |
| 029065 | 938 | Q204 HFR | A | | 4wDM - Mercedes | Yellow | | | Blackpool Transport Services | | 1998 | |
| 072061 | 7146 | | A | 99 70 9977 048-9 | 4wDM | | | | TXM Rail, Wigan | | | |
| 072555 | | | A | | 4wDM | | | | | | | |
| 083216 | SV 210 | | | | 4wDM | | | | Trac Engineering | | | |
| 092692 | | Q240 JBV | A | | 4wDM - Mercedes | Yellow | | | Haltermann Carless, Harwich | | 2006 | |
| 101335 | L84 1335 | A456 NWX | | | 4wDM - Mercedes | Yellow | | | | | 1984 | |
| 107598 | 7097 | | A | 99 70 9977 038-7 | 4wDM | | | | TXM Rail, Wigan | | | |
| 126262 | L85 1130 | C622 EWT | P | | 4wDM - Mercedes | Yellow | | | LT Museum Acton | TFL | 1986 | |
| 130580 | 924 1143 | | A | 99 70 9977 013-0 | 4wDM | | | | Stobart Rail, Carlisle | | | |
| 132889 | 70108491 | Q270 GAN | | | 4wDM | Yellow | | | Barrow Hill | | | |
| 140729 | 1188 | F171 DUA | | | 4wDM - Zweiweg | White | | | Nexus, Northumberland | NEXUS | 1989 | |
| 160572 | 1291 031 | | A | 99 70 9977 011-4 | 4wDM | | | | Stobart Rail, Carlisle | | | |
| 164499 | 1402 024 | | A | 99 70 9979 030-2 | 4wDM | | | | A.P. Webb Plant Hire | | | |
| 166200 | | Q179 VOH | A | | 4wDM - Yamaha | Black | | | Midland Metro | | 1998 | |
| 166228 | 020 | | A | 99 70 9977 012-2 | 4wDM | | | | Stobart Rail, Carlisle | | | |
| 166648 | XTU 2104 2104 | H867 ARB | A | | 4wDM - Mercedes | Orange | | | Balfour Beatty, Sandiacre | | 1991 | |
| 170264 | 041 | | A | 99 70 9979 029-4 | 4wDM | | | | A.P. Webb Plant Hire | | | |
| 172544 | 939 | J271 TEC | A | | 4wDM - Mercedes | Black | | | Blackpool Transport Services | | 1992 | |
| 181336 | 7150 | | A | 99 70 9977 046-0 | 4wDM | | | | TXM Rail, Wigan | | | |
| 184949 | 7147 | | A | 99 70 9977 044-5 | 4wDM | | | | TXM Rail, Wigan | | | |
| 185657 | 7149 | | A | 99 70 9977 045-2 | 4wDM | | | | TXM Rail, Wigan | | | |
| 191802 | 1812 SV 062 062 62 | S948 DWL | | 99 70 9979 081-5 | 4wDM - Mercedes | Black | | | Trac Engineering | | 1999 | |
| 195311 | 1850 061 61 | | A | 99 70 9977 010-6 | 4wDM | | | | Stobart Rail, Carlisle | | | |
| 197737 | RRU 09 09 9 | AD02 FKU | A | 99 70 9979 060-9 | 4wDM - Mercedes | Yellow | | Private Site | | | 2002 | |
| 199146 | 9210 | | A | | 4wDM | | | | CEVA Freight, Tamworth | | | |
| 199635 | 3139 | FG52 WCC | A | | 4wDM - Mercedes | Yellow | | | Nottingham NET | | 2002 | |
| 199725 | 5020 | FA51 XOV | A | 99 70 9979 023-7 | 4wDM - Mercedes | Yellow | | | TXM Rail, Wigan | | 2001 | |
| 200083 | | NA59 JNN | A | | 4wDM - Vauxhall | Black | | | Nexus, Northumberland | NEXUS | 2010 | |
| 201624 | | GK03 ACX | A | | 4wDM - Mercedes | Yellow | | | Nottingham NET | | 2003 | |
| 208343 | | NK12 CWZ | A | 99 70 9979 101-1 | 4wDM - Mercedes | Yellow | | | Nexus, Northumberland | NEXUS | 2012 | |
| 208529 | SV 090 | AE06 PFM | O | 99 70 9977 014-8 | 4wDM | | | | Elmec Solutions, Ripley | | | |
| 209478 | UNIMOG 04 | FH06 LBG | A | 99 70 9979 073-4 | 4wDM - Mercedes | Yellow | | | W & D McCulloch | | 2006 | |
| 215665 | 1 EBA 01D15A 009 1340 3810 | Unimog 1 | A | 99 70 9977 079-1 | 4wDM | | | | Quattro Plant Ltd, Stratford | | 2008 | |
| 224283 | | SN12 DWG | A | | 4wDM - Mercedes | Yellow | | | Edinburgh Trams | | 2012 | |
| 239027 | | NK16 GUX | A | 99 70 9942 161-9 | 4wDM - Mercedes | Yellow | | | Nexus, Northumberland | NEXUS | 2016 | |
| 239031 | | NK16 GUW | A | 99 70 9942 162-7 | 4wDM - Mercedes | Yellow | | | Nexus, Northumberland | NEXUS | 2016 | |
| 240772 | 2 1341 | Unimog 2 | A | 99 70 9977 035-3 | 4wDM | | | | Quattro Plant Ltd, Stratford | | 2015 | |
| 240933 | 3 4346 | | A | 99 70 9977 058-5 | 4wDM | | | | Quattro Plant Ltd, Stratford | | 2016 | |
| 240938 | 4 4345 | | A | 99 70 9977 057-7 | 4wDM | | | | Quattro Plant Ltd, Stratford | | 2016 | |
| 242230 | | AE66 CPU | A | 99 70 9977 041-1 | 4wDM - Mercedes | Yellow | | | Nexus, Northumberland | NEXUS | 2016 | |
| 242499 | | AE66 CPV | A | 99 70 9977 042-9 | 4wDM - Mercedes | Yellow | | | Nexus, Northumberland | NEXUS | 2016 | |
| 249135 | 4453 | YX67 AMV | A | 99 70 9977 049-4 | 4wDM - Mercedes | Yellow | | | W & D McCulloch | | 2017 | |
| 259520 | | NK69 ADO | A | 99 70 9979 108-6 | Mercedes U423 4wDM | Yellow | | | Kettering Depot Sidings | | 2019 | |
| 261391 | 208127 | NK70 DJX | A | 99 70 9979 110-2 | Mercedes U423 4wDM | Yellow | | | Kettering Depot Sidings | | 2020 | |
| 266048 | 4715 | YX22 CVC | A | | Mercedes U423 4wDM | Yellow | | Queens Depot | Manchester Metrolink | | 25/8/2022 | |
---
---