Set: RhB
Bernina
ABe 4/4
ABe 4/4 II
ABe 4/4 III
De 2/2
Ge 2/2
Ge 4/4
Gem 4/4
Diesel Locos
Gm 3/3
Gm 4/4
Gmf 4/4
Gmf 4/4II
Dual System
Main System
ABDt
ABe 4/16
ABe 4/16 Capricorn
ABe 4/4 0
ABi
ABt
BDt
Be 4/4
Bt
Ge 2/4
Ge 3/3
Ge 4/4 I
Ge 4/4 II
Ge 4/4 III
Ge 4/6
Ge 6/6 I
Ge 6/6 II
Geaf 2/2
Gem 2/4
Xe 4/4
Xm 2/2
Xmf 2/2
Xmf 4/4
Xmf 6/6
Xrot d
Xrot et
Xrot mt
Steam Loco
Tractors
Ta 1/2
Te 2/2
Tm 2/2
Tmf 2/2
Tmf 2/2 Schöma
Tmf 2/2 (F/F)
Rhätische Bahn

Rhätische Bahn is a metre gauge railway in the Swiss canton of Graubünden with a total route mileage of 384 km.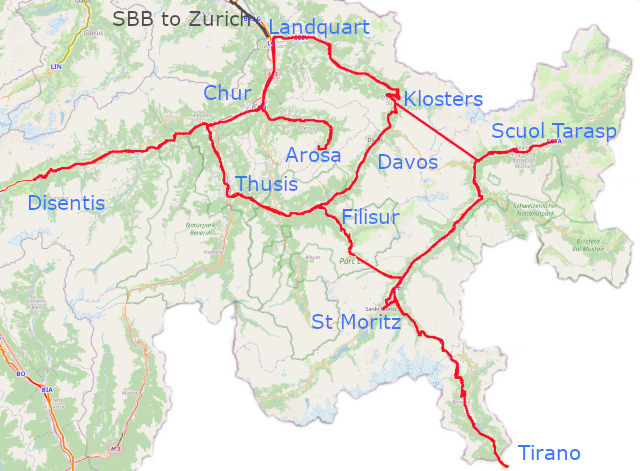 The main network ("Stamnetz") of the RhB is electified at 11kv AC. The Bernina line, from St Moritz to Tirano in Italy is electrified at 1000v DC.
Landquart-Klosters-Davos
The original stretch of line was constructed from Landquart to Klosters then on to Davos, and later extended through to Filisur to make a junction with the Albula line. Construction started in 1888.
Landquart is the engineering headquarters of the line, with extensive workshops and yards. Freight is transhiped from mainline (SBB) trains at Landquart.
The Verieina tunnel was opened in 1999 linking Klosters with the Inn valley, and provides a car shuttle service, bypassing the mountain pass road, which is impassable in winter.
Albula Line
The Albula line runs from Chur, through Thusis and Filisur to St Moritz. From Filisur the line ascends the Albula valley with numerous spiral tunnels and viaducts to gain height, before passing through the Albula tunnel to access the Inn valley. A new Albula tunnel is currently being constructed to replace the original tunnel.
Engadine Line
The Engadine line runs along the valley of the river Inn from St Moritz to Scuol Tarasp. At one time there were proposals to extend the line east to Landeck in Austria and west into Italy.
Disentis Line
The Disentis line runs from Chur along the Rhine vallery to Disentis were a connection is made with the MGB. This connection allows the running of the Glacier Express from Zermatt and Brig to Chur and St Moritz.
Arosa Line
Originally a separate DC line, the Arosa line starts from Chur station, runs through the town on street sections before climbing to the mountain resort of Arosa.
Bernina Line
Also, originally a separate line ,the Bernina line from St Moritz to Tirano in Italy is DC line running across the spectacular Bernina pass, and forming the highest surface mountain rail crossing in the region.
---
Update summer 2023
Passenger trains are now dominated by units with the Engadine services worked by Abe 4/16 units and Abe 4/16 Capricorn units working most trains between Landquart and Klosters/Davos/Scuol. Albula trains (Chur to St Moritz) are Ge 4/4iii worked with push-pull Abi (Albulagliederzug) sets, loco's are usually at the St Moritz end.
Bernina trains are hauled by Abe 8/12 Allegra units, although the older ABe 4/4iii railcars were working the Tirano-St Moritz Bernina Express trips in September. Arosa line trains are ABe 8/12 hailed. Disentis to Chur trains are loco-hauled with Ge4/4ii loco's, and most Glacier Express workings have Ge4/4ii haulage.
Freight workings are hauled by Ge4/4iii or Ge4/4ii (often in pairs)
Bernina
ABe 4/4
ABe 4/4 II
ABe 4/4 III
De 2/2
Ge 2/2
Ge 4/4
Gem 4/4
Diesel Locos
Gm 3/3
Gm 4/4
Gmf 4/4
Gmf 4/4II
Dual System
Main System
ABDt
ABe 4/16
ABe 4/16 Capricorn
ABe 4/4 0
ABi
ABt
BDt
Be 4/4
Bt
Ge 2/4
Ge 3/3
Ge 4/4 I
Ge 4/4 II
Ge 4/4 III
Ge 4/6
Ge 6/6 I
Ge 6/6 II
Geaf 2/2
Gem 2/4
Xe 4/4
Xm 2/2
Xmf 2/2
Xmf 4/4
Xmf 6/6
Xrot d
Xrot et
Xrot mt
Steam Loco
Tractors
Ta 1/2
Te 2/2
Tm 2/2
Tmf 2/2
Tmf 2/2 Schöma
Tmf 2/2 (F/F)
This dataset is regularly updated by users from various internet sources.
If you have updates or corrections to contribute, please get in touch via the forum.
All information is unofficial.
Select a class from the list on the left
---